Best Wooden Dog Crates in 2019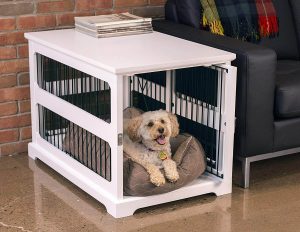 It's time for something a little bit different when you're picking out an indoor home for your canine companion.
Wooden dog crates, as opposed to the metal cage-like variety, can add a unique aesthetic and a cozy home for your furry friend. As long as you make sure that you have the right one you'll be able to enjoy the looks and feel of real wood while providing your dog with a crate.
The wrong ones can be an utter pain.
We rounded up ten different wooden dog crates in order to compare them side-by-side. Let's take a look into them and see how they fare against each other.
Why Go With a Wooden Dog Crate?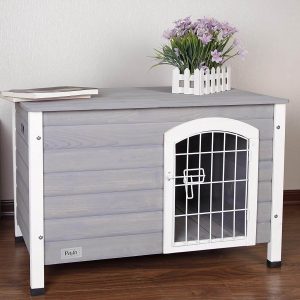 For most people, their dog's crate is a wire cage. Plastic and bigger metal options exist, but when we say "crate" then chances are you're picturing something which looks like an oversized rabbit cage.
And there's nothing really wrong with those types of crate. They're tough, durable, and quite easy to move around after all.
On the other hand, if you want to find a crate which fits in seamlessly with your home decor then you should probably consider investing in a wooden model. Many of them consist of wood and wire, but as a general rule they're quite aesthetic and fit easily in with the home.
There are a few instances where they underperform, however:
Moving around wooden crates isn't as easy as it is with wire crates. If you're planning on being on the road with your dog frequently then you'll need to invest in either a soft crate or a separate wire model.
Dogs who are prone to tearing things up can make short work of even the hardest woods. If you've got a masticating mastiff in your life then you'll need something tougher than a wooden crate.
Many wooden crates don't fare well outdoors. You'll need to be careful to pick one which can handle the weather if you're planning on outdoors usage.
They get pretty expensive for the higher-end models and while that's true of crates in general it can be something of a bummer for those who are looking for something specific and find it's going to be a kick in the pocketbook.
As a general rule, wooden crates are tough and good looking, but they lack some of the practicality offered by other materials.
That's not a mark against them though, they can be a wonder of design and tie a whole room together aesthetically. Just be aware of their shortcomings before you commit.
What to Look for in a Wooden Dog Crate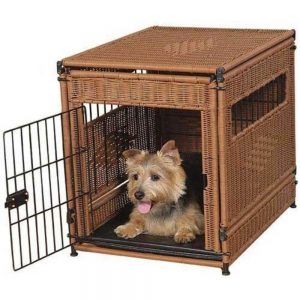 Wooden dog crates are pretty simple for the most part, but as with any product which is destined to be with your dog for their lifespan, there's a few big things that you need to make sure are in order before you commit to picking one out.
Durability
Unlike wire crates where you only need to check and make sure that the welds are good, wooden products vary quite a bit in quality. Unless you're a carpenter or an experienced DIY-type it can be hard to tell at a glance how the wood will hold up long term.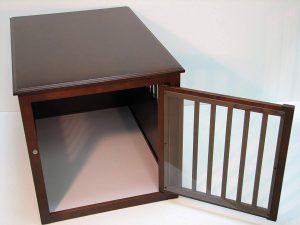 For the most part, higher-end wooden crates are going to be made of MDF. While hardwood models do exist they're generally custom jobs and a bit outside the scope of what we reviewed. If you do go down that route go for something hard and dense like oak as opposed to softer woods like pine which are easier to chew through.
If it's a combination model, which almost all of them are, then you'll also need to make sure the wires are thick and welded well.
Hardware durability is also a bigger concern with fully wooden crates. The mounts need to be extra stable compared to wire options since wood can tear much easier.
Ease of Cleaning
If the bottom of the crate you're looking at is wood then you want to make sure it's waterproof. If it isn't then you may be in for a nasty surprise.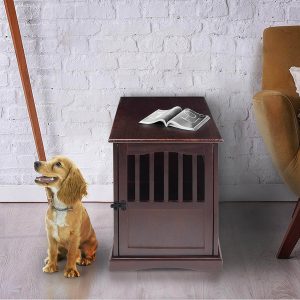 It's not a complete deal breaker but you'll need to carefully line the bottom with something which is waterproof if that's the case to avoid problems. Urine can be remarkably caustic on wood and soak in deeply, leaving behind disgusting odors and unsightly stains which you simply won't be able to remove.
For the most part a dog which is well crate-trained isn't going to be urinating where they live very often, but water is still likely to spill while they're drinking. All of this together means that waterproofing is very important.
Aesthetics
This is the reason which most people end up going with a wooden crate.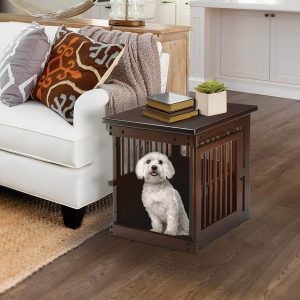 For the most part, there's a variety of different wooden and softer colors available, but we think it's important to make sure that it ties the room together. If it doesn't, after all, then you may as well go with a wire option.
You'll also want to make sure that your dog is able to see out, especially if they're the anxious type. Wood isn't very breathable in the first place, so an adequate amount of ventilation is an important consideration.
Pricing
The price of your crate should be less of a factor than when you're buying a regular crate. If you can't find one which suits you at a price you can afford you're likely to be better suited with buying a regular crate since they're much more standardized in appearance.
For the most part, however, for a retail model instead of a custom one you're only going to be looking at a hundred dollars or so. In the long run a wooden crate is quite likely to last through your buddy's lifetime so it's a remarkably small price to pay.
The Doggone Best
Dog crates are always going to be the sort of thing where it can be hard to tell if your dog is going to like it beforehand. We found that the following were all of amazing quality and most dogs that we attempted to corral into them loved them.
They're all a bit on the pricey side, however, but we still recommend getting a good look at them before you move on in our list to see just what can be done with a good quality crate.
Petsfit Indoor Wooden Dog/Pet House with Wire Door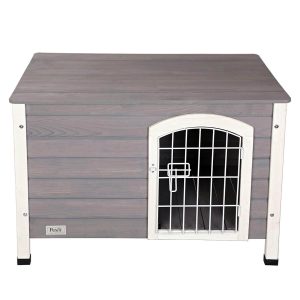 Coming in somewhere between a dog house and an actual crate, this one is primarily suitable for small dogs but we fell in love with it immediately.
First of all it's one of the cheaper options that we took a look at. At the time of this writing it's just under a hundred bucks. On top of that it's got a delicate pastel coloration and durable construction which can prevent gnawing on the sides.
The only part of it which is wire is the gate. We feel like the lock could probably be improved, a particularly crafty canine may be able to finesse it open, but it's solid and swings with a remarkably smooth action.
Unfortunately, it's lacking some ventilation and the single door is the only real opening. Some dogs are a bit anxious, but we found most smaller mutts took to it readily once introduced.
Crown Pet Products Wood Pet Crate End Table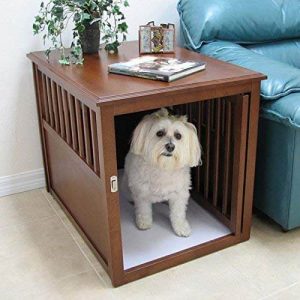 For a more classic look, Crown Pet Products produces this excellent all-wooden crate which is sized appropriately for small to medium-small dogs. It's all wood, however, so beware if you've got a terrorizing terrier with a knack for chewing on things.
As long as your dog isn't going to try to eat it, however, it functions quite well and has a lovely design due to the construction. It comes in a couple of sizes and natural-feeling wooden colors which should leave it at home in the majority of homes.
The floor is constructed of coated MDF which makes it easy to get clean if accidents happen. That said, you may still want to invest in a pee pad that slightly wraps up to save the sides if your dog is particularly prone to them.
While it's recommended as an "end table" as well, we really don't feel like your dog is going to be too happy with you using their roof to place items. If your dog is particularly stoic you might want to give it a shot though.
Internet's Best Wood & Wire Dog Crate with Cushion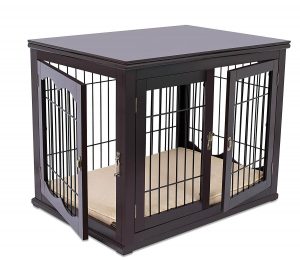 If a wire and wood crate is the thing you're looking for… well, this one is absolutely lovely and well-constructed enough to withstand even the most boisterous dogs. It's available in a rich, deep espresso color and a solid white which will fit in with almost anything.
In addition to the styling, it also comes with a nice little dog bed although many people will opt to replace it sooner rather than later. It also opens on two sides, making it rather convenient to place since you won't need a specific orientation to open it if you're short on room.
Best of all, it's rather easy to assemble. Most of our reviewers managed to get it together without any issues, which is a bonus for those who aren't good with their hands.
It's unfortunate that it's not available in a larger size, however, so make sure the footprint is suitable for your dog before you make the leap.
Merry Pet 2-in-1 Configurable Pet Crate n Crate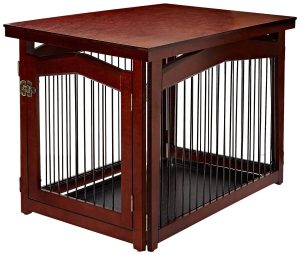 This unique little addition made our list due to its handsome style and the fact that it can be converted into a pet gate. It's kind of an odd combination but we quickly found that it worked well in both capacities which means it gets a thumbs-up from us.
Another nice touch: there's a removable plastic tray on the bottom to help prevent any accidents from harming the wood underneath. While we'd prefer it to be waterproof, it's still enough to provide protection in most instances.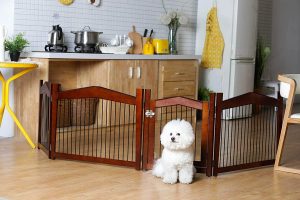 The whole thing is easy to assemble, and convert into its gate function as well. It actually makes a decent gate as well, being a bit over 30" in height and preventing all but the springiest of small dogs from leaping over it.
It comes in two sizes and it was actually one of the larger wooden dog crates that we tested out when the larger size was taken into account. It's a great option overall, just bear in mind it's a bit expensive.
Runners Up
The following crates are all still respectable options, but they're not quite as high-quality as the previous ones. On the upside, they tend to be more affordable for those on a budget and they're all still worth a good look.
zoovilla Medium Slide Aside Crate and End Table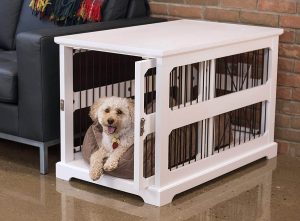 While it's not the best looking option, we quickly found that there were some extra uses for the zoovilla. For temporary confinement, it's a great way to get some extra use out of an end table but as a dedicated crate, we feel the footprint comes up a bit lacking.
The door was our favorite part, allowing you to slide it to the side so that it stays out of the way. It can also be hinged closed but we didn't find it to be the strongest of the bunch although any dog which fits inside should be just fine.
It's available in both black and white, great neutral colors which should suit the vast majority of folks out there. Add in the high-quality MDF construction and it's a good overall crate.
The MDF can even handle some light gnawing although we recommend keeping this one away from those who like to really get down to chewing when left alone.
Casual Home Crate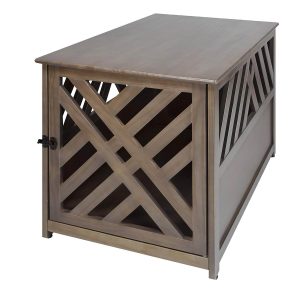 This crate has a lot more options than many that we looked at, but it's definitely not the most durable if you have a boisterous dog in your home. For those dogs that aren't likely to try and chew their way out, however, it can make a great way to keep them overnight.
This is the second of the all-wooden crates that we took a look at. It's still an impressive look, but compared to many of the wood-and-wire style constructions it just doesn't offer nearly as much ventilation. We don't recommend it for particularly warm climates unless you've got some good air conditioning.
That said, it comes in a variety of heights and colors which makes it suitable for a larger amount of homes than most of those on our list. A close color match can really make it stand out in your living room and look more natural than the majority of wooden crates out there.
PetSafe Solvit Mr. Herzher's Indoor Pet Home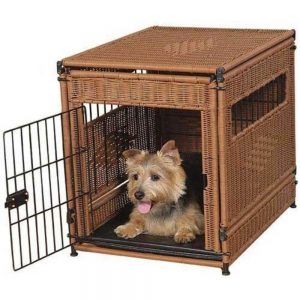 While not strictly wood, and probably the least durable for chewers, this wicker construction offers a unique look that we fell in love with immediately. Wicker is actually a great material to use since it doesn't absorb odors or stains easily and it allows quite a bit of breathability despite the seemingly solid sides.
It's also available in sizes to suit nearly any dog. The largest model was the largest overall of the crates that we took a look at but if you've got a crazed canine then you'll probably want to skip it since a large dog could make short work of the sides.
It's easy to clean, however, coming in with a durable plastic pan which is there to catch accidents. The door can also swing inwards or outwards depending on how you want to do things.
As long as you're aware of its shortcomings this is a good option for many dogs and their owners.
Honorable Mentions
Not every crate out there is going to be a standout option. While all of the following may make a good addition to the right home we'd recommend you look through our Doggone Best and Runners Up before you start digging here.
If it's suitable for your home then you'll still be well served, none of them are truly bad, they're just not quite as great as our favorites.
Richell Wooden End-Table Crate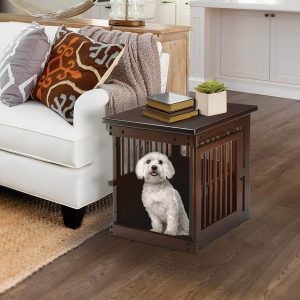 We want to like this crate, but we feel the cost is way too high to be justified. Coming in at a ridiculously high price it's rather unfortunate, because other than that it could have made our Doggone Best list.
It combines great, wooden styling with a nice plastic tray for ease of cleaning. It's also got wooden bars, as opposed to the slats which were present in most of the models we tried out. It's held together well, but it better be for the high price.
There's a lot to like here, but it's not enough to justify the high price in our eyes.
Newport II Pet Large Crate End Table
We wanted to like this one. It's got a nice style to it but overall it was a bit cheap in construction and the "large" size is actually more mediocre than anything.
This crate is pretty roomy for the most part, but upon further inspection, we noted that it definitely wasn't suitable for a larger dog. As far as wooden crates go it's not too bad but it's not the best on the market.
In spite of the styling, we also found that most dogs could readily get the bars out. The spacing is just right for a bit of tugging and pulling to pop them right out and any dog which fits inside will make short work of escaping.
Pet Hup Hup Crate Table For Dog's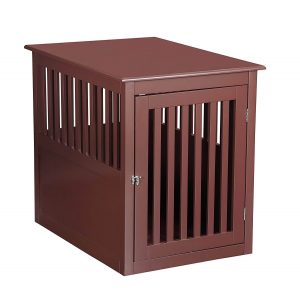 It's well-designed and stylish, but it just doesn't hold up even in the short run. That was the general consensus of our reviewers and it's a shame that the materials don't match up with the engineering for this one.
That said, if you have a calm dog who doesn't chew then you'll quickly find it to be a good, cheap option. The price is excellent and it comes in a variety of different colors to match your home decor.
We also heard tell of some issues with the crate being damaged in transit. That's unfortunate and points to lack of quality control overall.
Bring a Wooden Dog Crate Home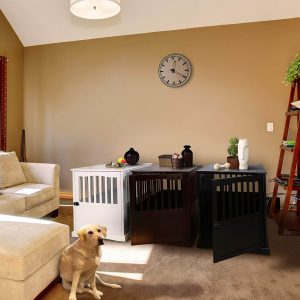 If you're in need of a wooden dog crate then we hope that you found our overview of them to be sufficient to convince you to get the right one for your home.
There are a lot of them out there, and while not all of them are great we did find that the majority of them were perfectly functional. Keep in mind that it was kind of hard to compare some of the lower-end options once we'd handled the doggone best for ourselves.
If you've been thinking about it, however, then it's time to pick one up and give your dog a stylish new pad. As long as they're not going to eat it we feel you should be quite pleased in going with the best wooden dog crate for your home.