The Best Heated Dog Beds in 2019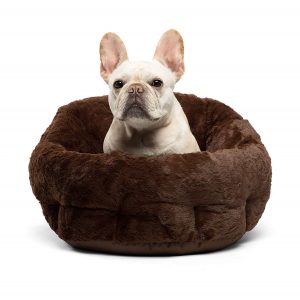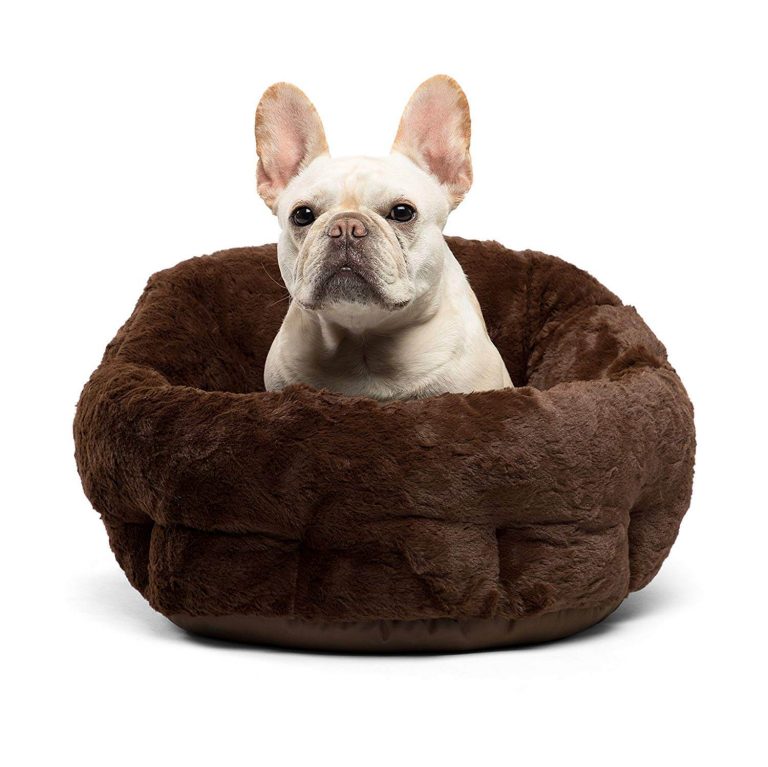 With Old Man Winter hanging around the corner, it might just be time to step up your canine companion's comfort level by introducing them to a fantastic heated bed. Whether they're old and crotchety or young and free, a heated bed can make all the difference during the colder months and they're even more important if your dog spends the majority of their time outdoors.
We think your pet deserves to be nice and cosy through the whole year, and we think you'll agree once you see the benefits of the best heated dog beds on the market and the wide variety which are available to suit the tastes of every pet and their owner.
Which Dogs Need a Heated Bed?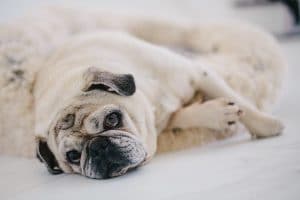 Of course, not all dogs are going to need a heated bed. If you live in a temperate climate and your dog stays indoors all the time… well, it's not going to help things much and is likely to be just another device which you've purchased and end up leaving in the closet.
For colder climates, however, they can be a godsend.
Senior dogs will find them helpful for arthritis and other joint pain issues, as well as keeping them warm while their metabolism slows down.
Puppies will also find a heated dog bed to be preferable. They're used to cuddling with their litter mates and often their systems aren't quite up to snuff when it comes to regulation of their body temperature.
Dogs who spend most of their time outdoors are going to find a heated dog bed a welcome addition when it comes to the cooler months. There are even mats which can be put in dog houses if they sleep in one.
If your pooch falls into any of the above categories then you'll be in good hands with a heated dog bed, although you may wish to hold off if there's no need for one just yet.
What to Look for in a Heated Dog Bed
As long as you know your dog's sleeping style and their destructive tendencies you should have a pretty good idea about what kind of bed you're looking for. There are a few more things to keep in mind when you're looking for the right bed for your buddy and budget.
Durability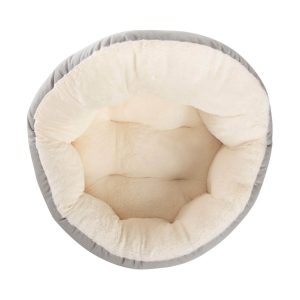 If you're going for an electric bed, you need to make sure that your dog doesn't chew on it. If that's the case, then the durability is less of a concern but the bed should still be made of high-quality materials in order to ensure that it has a longer lifespan.
On the other hand, for those who are planning on a self-heating pad you may want to look into an outdoor model even if your chewer stays inside mostly since they're generally made of tougher materials and even the best fake fleece cover isn't going to stand up to a dog which gnaws on everything that passes within a foot of it's snout.
As a general rule, outdoor models tend to be much better at holding up for long periods of time.
Ease of Cleaning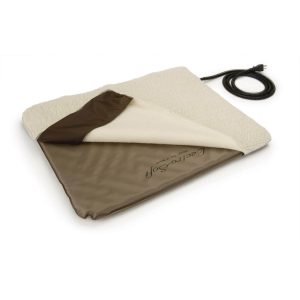 All dogs will eventually leave smells, drool, and a mess on their beds.
It's a fact of life.
A bed which is easier to clean is a massive bonus thanks to this and it was one of our primary selection criteria. For the most part, the internals of a heated bed aren't something you're going to be stuffing in a washer, instead, you're going to want to rely on an easily removable cover that's machine washable and doesn't shrink easily.
Your nose will thank you in the long run if you pay attention to this factor.
Cost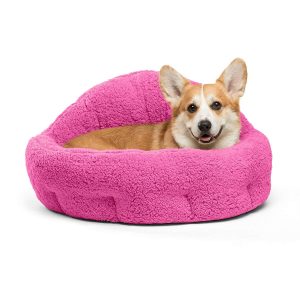 The cost of the bed is always going to be a big factor, but in this case, we feel it's worth noting that often a bed which costs twice as much may last four times as long.
If you're planning on keeping your dog's new heated bed for an extended period of time then another thing to look into is the warranty. Longer warranties generally mean a product which will be in good shape for a longer period of time, a bed which the manufacturer only expects to last for a year isn't going to be warrantied for five.
On the other hand, you may not have the necessary budget for a particularly expensive bed and that's where budget priced options come in handy. You may not expect them to last as long, but the upfront cost can be much smaller and they can still last for a considerable period of time.
Our 6 Favorite Heated Dog Beds
After a lot of doggone research, we've dug up six of the best heated dog beds on the market. All of these are pretty great when it comes down to it, but we've listed our favorites first to save you some time.
Our dogs recommend them, after all, which is why we're bringing them to you yet again.
Best Overall Heated Dog Bed
Of course, if you want our opinion on it then we've already found what we think will be the perfect fit for most canines out there.
Cozy Cave Pet Bed in Poly Cotton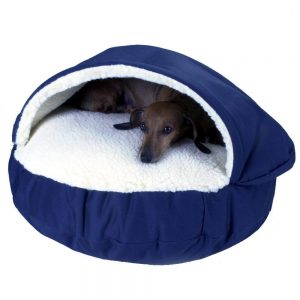 With a tiny, cave-like design and a warm fleece cover, this was our favorite of the beds. It is a self-warming model, but if you've got a dog who likes to tunnel in while they're going to sleep they'll find themselves quite warm and snug.
It comes in three different sizes, a few different color options, and we quickly found that most dogs love the heck out of it. Once they're snuggled inside they'll remain warm and snug for the night which is all you really need.
The "sherpa" lining remains warm, but the majority of the heat produced here comes from your dog's own body heat. It's quite portable as a result, and a great way to keep your dog warm on the road.
On the other hand, not all dogs are burrowers and those which prefer to flop aren't going to be all that happy with this bed, unfortunately. You'll want to find something which is more suited for their sleeping style if that's the case.
Best Electric Heating Pad
K&H Pet Products Lectro-Soft Outdoor Heated Bed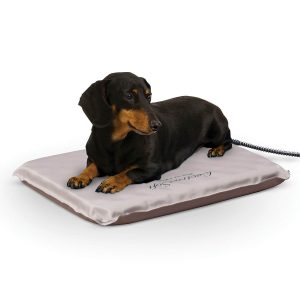 If you're looking for an electric option then we recommend taking a look at this one first. It's a durable, well-sized mat which we quickly found to be one of the best options for those dogs who like to sprawl out during their sleeping.
It's also built strong enough to last outdoors, which is a definite bonus for those pooches on the porch. At 36 inches long it's big enough for most dogs as well.
The value doesn't end there though, the pad itself is made of memory foam which can help further with joint pain in elderly dogs. Even younger dogs will enjoy it quite a bit, it's just comfortable.
The whole thing functions off of a thermostat that keeps the pad itself at roughly the right body temperature for your pet. This saves on energy and also makes it much safer than the types of heating elements which many people think of when it comes time for electric heating.
Runner Up for Best Self Heating Dog Bed
Best Friends by Sheri Luxury Shag Fuax Fur Donut Cuddler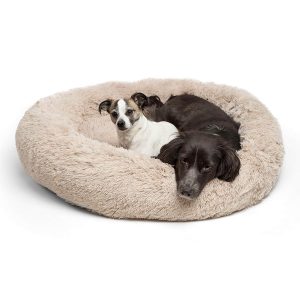 Available in three different sizes, this donut-shaped dog bed is covered in faux fur and amazingly warm despite lacking an electric heating element. The largest of these is suitable even for mammoth mutts, coming in at a solid 45" by 45".
This bed is completely safe in the wash as well, just throw it in there and you'll be good to go. Since it's so easy to clean we found that it's great for those dogs who just can't seem to stop drooling.
The donut design isn't quite as warm as our favorite, unfortunately, since the dog in question will have to snuggle up to the side and can't get full coverage. It's still suitable for chilly nights indoors, however, and the plush padding is quite comfortable.
The bottom is also water resistant, keeping accidents from soaking the bed entirely. We found that quite a variety of dogs like this one, including those who like to snuggle and those who prefer to rest their head on a pillow. Even sprawlers can get a bit of comfort out of it.
Best Budget Heated Dog Bed
Aspen Pet Self Warming Bed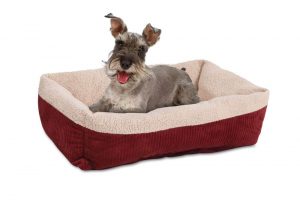 When it comes down to it, it's hard to beat the Aspen Pet Self Warming Bed at the price. It's a cheap model which uses a mylar insert to give your animal a surprising amount of warmth. It's also available in quite a few different sizes.
While it's not the warmest or the most attractive on our list, it's a solid value for the price and we found it to be rather durable even if it was inexpensive. There are also a few different shapes so you can ensure that you get the one that suits your pet's sleeping style.
The bed comes with a non-skid bottom to keep it in one place when crazy canines take a dive for it as well. It also holds its shape well for extended periods, which made it the best of the cheap beds we looked at.
Overall, it's adequate. For the price, however, it's probably the best option out there and forms the perfect point between "high-quality" and "high-price".
Best Cold Weather Heated Bed
Best Friends by Sheri OrthoComfort Deep Dish Cuddler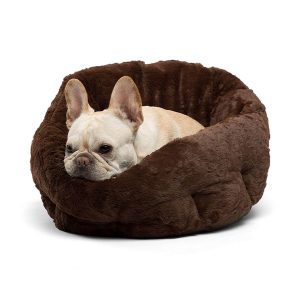 Not all beds stand up for cold weather, but this heated bed produces a surprising amount of warmth thanks to it's deep, cup-like design. On top of that, it's pretty snazzy looking, but that's secondary to the rest of its great qualities.
This one is available in two different sizes and a wide range of different colors, ranging from bright to more neutral tones which blend in seamlessly with any decor. The real wizardry is in the design, however, which is second to none if you're trying to save on the furnace bill while you're at work.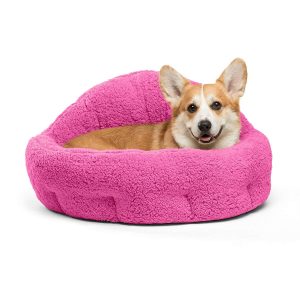 The whole bed is machine washable as well, which… we're not too sure. The larger version is a bit of a pain to fit in the dryer and we kind of wish that the cover was removable. It's made up for in the amount of comfort and warmth it provides, however.
The bottom is also waterproof and has some anti-skid qualities to keep it in place when larger dogs get in. It's a nice touch overall.
Best Combo Electric Heated Dog Bed
K&H Pet Products Thermo-Snuggly Sleeper Heated Pet Bed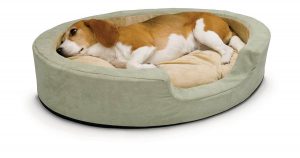 We found this heated bed from K&H to be quite excellent. Unlike pad models, animals seem to love them even when they're not turned on and it works excellently once you plug it in.
The construction of the bolster bed itself is pretty awesome, suitable for any type of sleeper who's not a sprawler. The larger size is about 31" in length which also makes it suitable for most medium-sized dogs.
The heating element is the same safe, thermostatically controlled one as in our pick for the best electric. It heats up to around body temperature and holds there no matter what temperature it is outside. In practice, it falls a bit short of the ideal temperature but not far enough it's a serious issue.
The liner easily removes for washing as well, a nice touch since you don't exactly want to throw a heating element in your washer. It also only uses 6 watts of electricity, a remarkably small amount for the benefit your dog will derive.
Different Types of Heated Dog Bed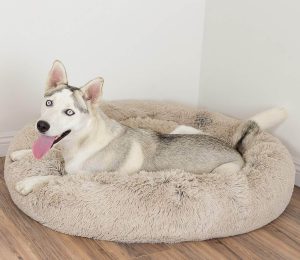 There's more than one type of heated bed for your pup out there, and you'll want to make sure that you match things off with the way that your pet sleeps.
Most of us have spent some time watching our dogs during a nap, so you should have a good idea. Do they curl up in a ball and use a pillow? Do they tend to flop out wherever they're standing at the moment? Steal the couch from their people?
Even the best heated bed is useless if your dog refuses to use it.
The following are the most common types of warming beds:
Bolster Beds: These are essentially the same as any other dog bed, but they have an electric heating element which will make things even warmer than normal for your pup. If your dog is used to using a regular bed with raised sides then you may want to opt for one of these.
Heated Flat Pads: The second most common type is usually a couple pieces of memory foam attached to each other and placed within a cover. They're easy to watch and great for dogs who like to flop out when they're looking to sleep.
Outdoor Beds: These can be in either of the above styles and they're generally made of tougher materials in order to handle weather better than their indoor counterparts.
Heated Furniture Covers: If your dog sleeps on the furniture then you're still in luck, quite often you can find a heated furniture cover which will allow your dog to get nice and toasty while they're on the couch.
Most of these come in both self-warming and electric options, but we recommend going with the electric in most cases since they offer a much more tangible benefit for your dog.
Self-warming options are best for portability, however, so if you and your canine are on the road a lot then you may want to look into the purchase of a bolster bed or flat pad that you can take with you without having to worry about finding a plug.
A Word About Heating Elements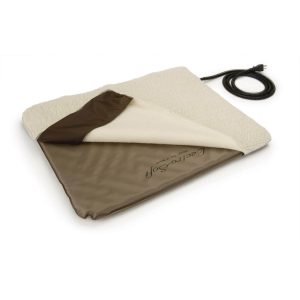 Some pet parents have trouble with the idea of letting their little one sit on an electric heating element. They've gotten a bad wrap over the years thanks to some of the older models of electric blankets and other products which have had some pretty serious malfunctions in the past.
That's not to say they're 100% safe.
If your dog is prone to chewing on bedding… skip the electric elements.
Other than that, you'll find that you just need to inspect the bed before you plug it in each time. If there are no visible defects in the wiring and the elements aren't poking through worn bedding then you can generally consider the whole thing to be safe.
Conclusion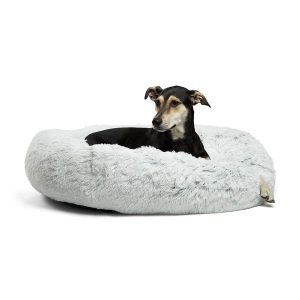 When it comes down to those cold winters, your dog deserves to be nice and warm when they're sleeping. Whether they're ageing, young, or in between making sure you have a heated bed for when the weather outside starts dropping is both a good idea and quite responsible.
Whether you opt for an electric model or just a warm little snuggler, the truth is that your dog is going to be a lot happier for it.
Why not pick up the best heated dog bed today? No reason to wait when a cuddly, warm bed is just waiting for a loving family and a grateful dog.