The Best Pet Carpet Cleaners and Shampoos in 2019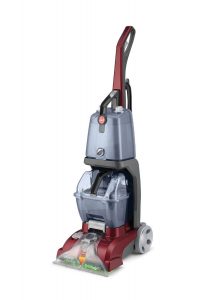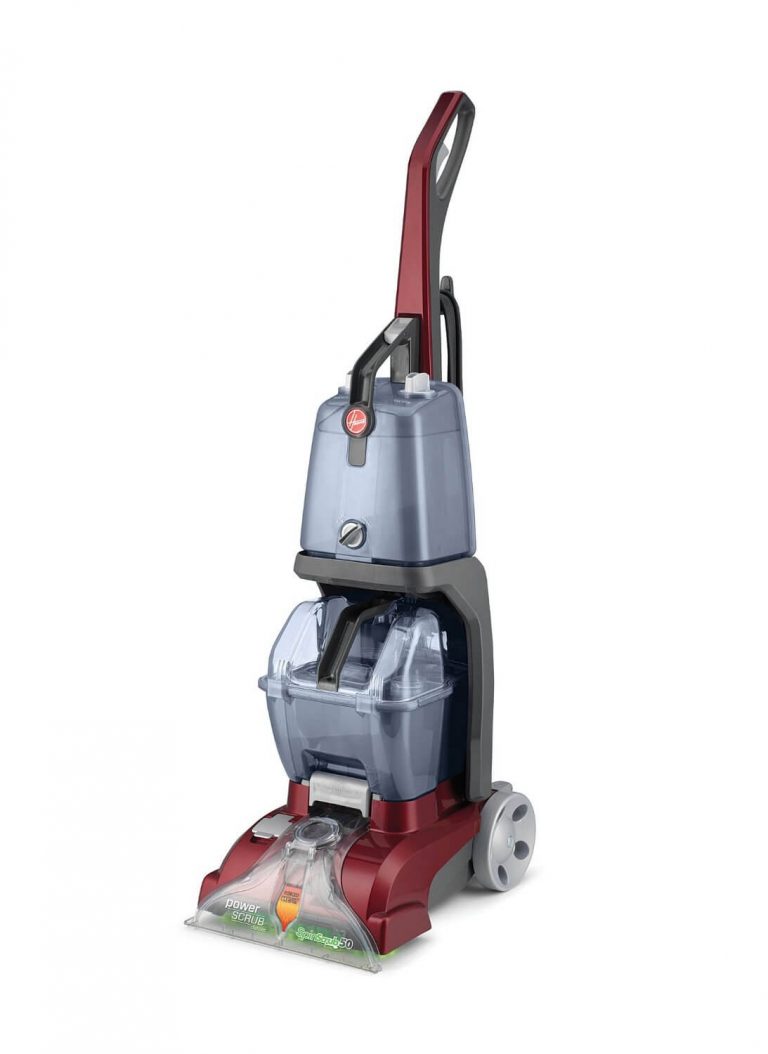 When it comes down to it, there's a lot of great points to keeping pets around the home.
Unfortunately, they also tend to leave messes. If you're having to deal with all of the fun of dealing with pet stains then your carpet is probably getting to the point you don't know what to do.
Can you relate? What you need to do is make sure that you have the best pet carpet cleaner around and then invest in the shampoo which will make sure the job is done correctly.
Instead of fumbling around in the dark, let us guide you on your journey to a fantastic carpet free of the stains and odors out beloved furred family so often leave behind.
What to Look for in a Carpet Cleaner for Pets
While you could just try to go with a regular carpet cleaner, those that are engineered specifically for pets have some advantages.
Types of Carpet Cleaners for Pets
Before you get into things any further, you'll need to decide which type of carpet cleaner is ideal for your problem.
The basic types are as follows:
Upright Carpet Cleaners-These have a similar shape to a vacuum cleaner. They're easy to use and put away when you're done but don't have quite the same amount of power as most of the other types, although they'll beat out compact cleaners most of the time.
Compact Cleaners-For those who don't have a whole lot of room in their home, compact cleaners are great. They take up very little room, but you'll want to invest in one before things get bad since they lack some power.
Full-Size Cleaners-For professional pet enthusiasts, these are probably the best option overall. With a ton of power, they'll make short work of nearly any stain, the biggest problem is that they can be a bit much to handle until you get used to them.
Which you go with is going to be largely dependent on the amount of space you have available and whether or not you'll be able to manhandle a larger machine.
The larger machines are also generally more expensive, so keep that in mind if you're on a tight budget.
Branding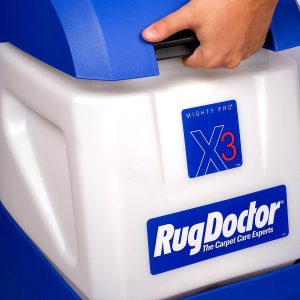 The best promise for those who are looking for a durable machine is to make sure you go with a well-known brand. Since many of these machines are built by people like Bissell, you can rest assured you'll have good quality and a warranty.
That's not to say the knockoffs are all worthless, just that you have a much higher chance of ending up with a dud if you go down that route than if you were to use someone you know you can trust.
Power
The amount of power you're going to need will depend on your carpet and the amount of area you need to cover.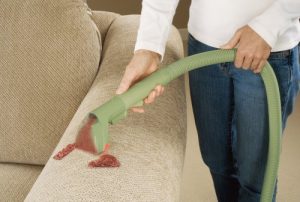 While a weaker carpet cleaner works out just fine for those areas where you have flatter carpeting and just the occasional fur, urine, or mud to deal with… it's not going to cut it if you've got a shag rug which belongs in the '70's and six dogs.
Power is the most important consideration for most people.
If you can't clean the carpet with the one you've got… well, then you're not in very good hands are you?
Other Considerations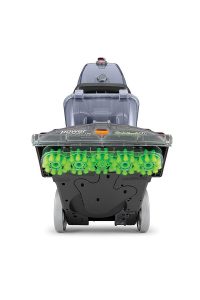 Hose length is something that we found was extremely important. Full sized cleaners are heavy and a longer hose will allow you to get the stairs and most of a room without having to drag it around behind you the entire time.
Bigger tanks are also something to look for. Less refills means more cleaning can be done before you need to refill. Really large tanks can add quite a bit of weight, however, remember that water weighs about seven pounds per gallon.
Moving brushes are a good thing to look for in smaller machines. They won't entirely make up for something without a lot of power, but they can make a pretty big difference by agitating the surface of the carpet during your cleaning.
Additional Pet-Focused Features
Where pet carpet cleaners are a bit different from a regular one is mainly in some of the special features which can be had with them.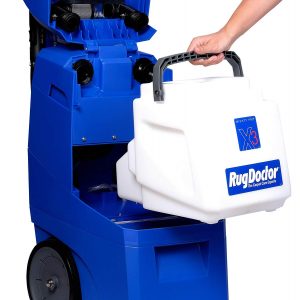 Keep in mind these are mostly for convenience rather than completely necessary. They can also add quite a bit to the cost of your machine, so you may want to spend some extra time thinking about them if the price of the carpet cleaner is going to be the final determinator.
Stain Isolator-You love your dogs, but if you're looking into getting a carpet cleaner specifically to handle them then chances are you don't like the smell of their pee. Stain isolators help to keep the majority of the foul-smelling stains out of your tank and will save you a lot of cleaning time. Otherwise your machine's smell might overpower the carpet's.
Pet Hair Traps-Does Fido shed? Then you probably want one of these. They're great for those who have dogs with heavy fur, since they can remove the pain of unclogging the machine in its entirety once it's gotten clogged up.
While carpet cleaners are pretty robust machines, they can still get clogged or have some problems. If you're using a standard carpet cleaner and running into these issues then you should definitely make sure that you've got the features needed to minimize the damage.
It takes a lot of time to get things cleaned up, so keep an eye out for these features if you really want to make sure that you don't have to waste a ton of time.
The Best Carpet Cleaners for Pets
We've compiled a list of the best, so let's dive in and see what can be done. Each of these is well suited for someone, so take a look over them carefully before you make a final choice. It's important to make sure that you end up with a carpet cleaner which is going to last, otherwise you're just going to be chasing your tail.
Best Overall Carpet Cleaner for Pets
Hoover Power Scrub Deluxe Carpet Washer FH50150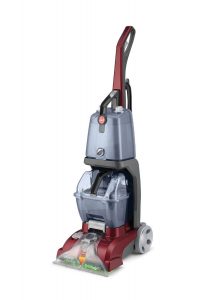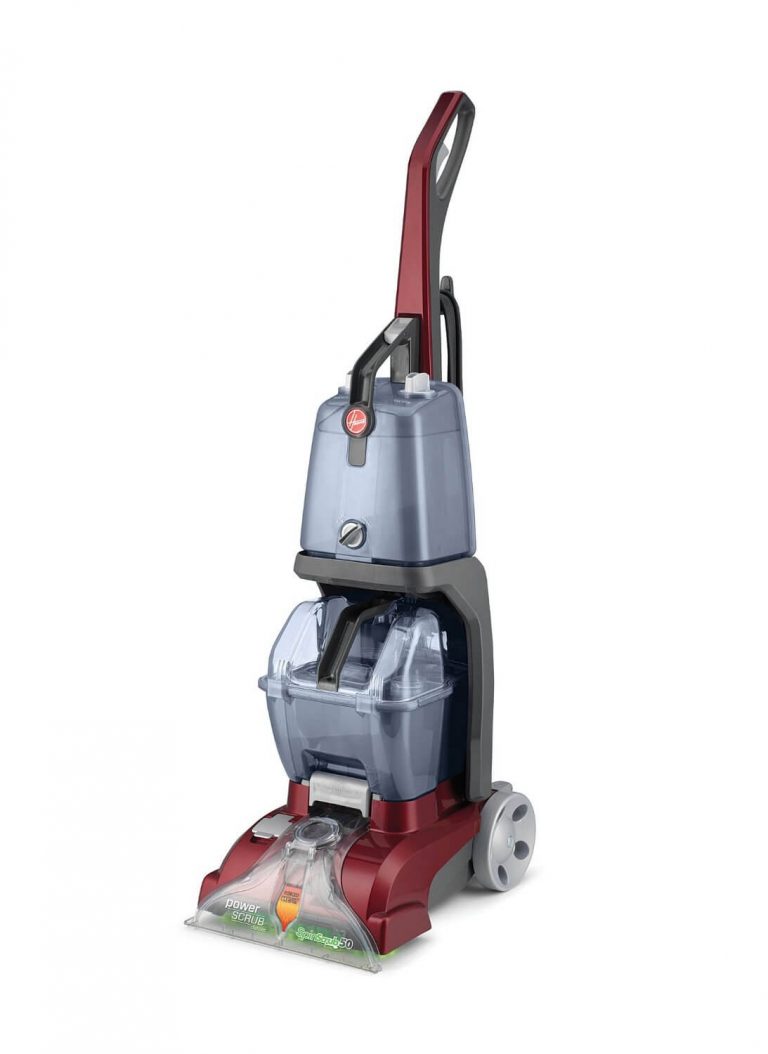 With an upright configuration that you'll find mimics your regular vacuum cleaner, the Hoover Power Scrub is an excellent choice. No professional experience necessary in this case.
In addition to the familiar format, you'll be getting a powerful machine. At least for an upright, while it's not the kind of thing which can compare with a professional, full-size cleaner it's more than sufficient for the average home or carpet.
Stairs? You got it. Despite being an upright, this machine also carries an eight foot hose and the whole affair weighs just a touch less than twenty pounds unloaded. It's not quite a Shark Ultralight style, but most people aren't going to have too much difficulty using it.
The Power Scrub Elite, which is the next step up, actually has a few more options for pets but we're confident that the Deluxe model is the way to go for most homes. If you have a smaller home and a ton of pets you may want to look it up however.
We didn't run into it, but it seems that many people have complained the turbines lock up after some time since they aren't rust-proof.
Best Professional Carpet Cleaner for Pets
Rug Doctor Mighty Pro X3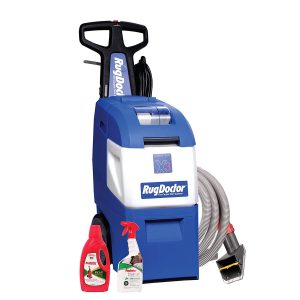 We're going to hop right in here and say it: this is probably a bit much for most homes out there. It's a professional, full-sized, non-upright carpet cleaner and it's amazing. It's also prohibitively expensive, especially for those who are just looking to handle the occasional stain and get the fur out of their carpet.
Is this a great choice for most homes? Absolutely not, but if you've got an enormous home, run a grooming business, or you're planning on cleaning carpets for a living you won't be disappointed.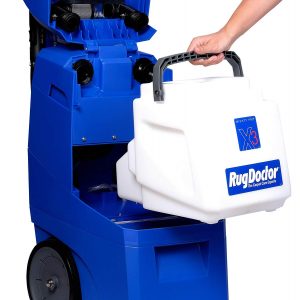 It's three feet tall overall, rather heavy, and has an enormous 12' hose. Keep in mind this machine weighs fifty pounds… before you fill it. You'll need some muscle to be able to move it around the home easily.
If you've got the money and the storage space it's a good investment. Fortunately it's also a really common model, so you should be able to rent one from anywhere near you that allows regularly passes out carpet equipment.
That makes it a lot easier to give it a shot to see if it's the right solution for you. This machine seems to be able to take a beating and it worked better than any of the others we tried, it's just a bit of a bear to slam it around.
Runner Up for Best Overall Carpet Cleaner for Pets
Bissell ProHeat 2X Revolution Pet Pro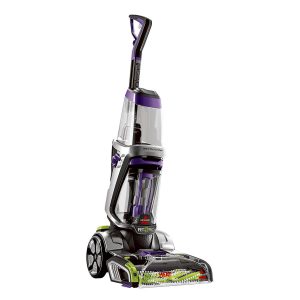 If you're a big fan of Bissell's cleaners then you'll be in good hands with this one. It'll heat, steam, and manhandle your carpet back into a new state pretty easily. It just runs fairly high in cost and we weren't sure the jump in pricing justified it being our favorite.
It has some extra features which make it stand out, however. The biggest of these is the pre-treater which allows you to smack around stains before you go in for the kill.
It also has a great 2-in-1 pet hair remover which handles hair as well as the stains and deep-seated dust and dirt which gets into our carpets. As an added bonus, hair catchers can help to extend the amount of time you'll be able to use your machine without having to clear it out.
It has an eight foot hose as well. While it might not be ideal for stairs you'll still be able to handle them in most cases.
As an added bonus, it's easy to clear out the moving brushes. The assembly just lifts off the front, letting you clear things out without having to go through all the "fun" of flipping the machine over and manually picking through the brush while rotating it.
Best Compact Carpet Cleaner for Pets
Bissell Multi-Purpose Portable Carpet and Upholstery Cleaner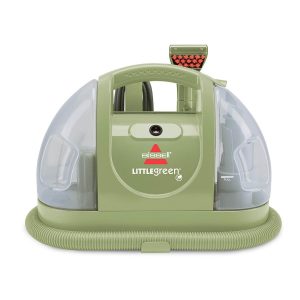 Looking for something a little bit smaller to handle the occasional stain? This compact cleaner is exactly what you've been looking for although we don't recommend it if you're trying to handle the entire house at once.
The lightweight design and four foot hose make it perfect for treating just the occasional stain. It's also cheap enough that most people can justify the cost without too much difficulty, carpet gets expensive over time after all.
The usage of this one is a little bit more specialized than we found with most of the carpet cleaners we took a look at. Instead of using it on the whole house it's really best for handling isolated stains and tracks.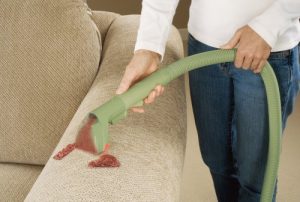 That's not too horrible of an idea, however. If you've just gotten new carpets and you want to keep stains from overtaking the home again then you'll be in good hands with this one, and it works great for smaller homes with only a few pets.
As an added bonus: you don't need to vacate the house until everything dries when you use it.
The unfortunate fact is that no one is really going to want to use this to handle their whole home, however. You may also end up wanting to pretreat your stains when you use it since it lacks any sort of heating option.
Best Mini-Upright Carpet Cleaner
Hoover PowerDash Pet Carpet Cleaner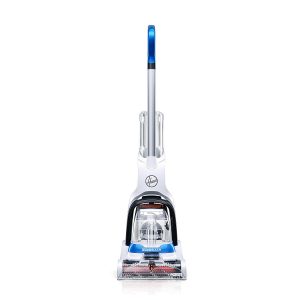 While this Hoover is quite a bit smaller than our favorite, it's a powerful little machine that works awesome in tight quarters. It's got everything needed to handle most stains within reason although it wouldn't be our first choice for a larger home.
Our favorite part is the weight. Unloaded it comes in just shy of thirteen pounds, making it around the same weight as most vacuum cleaners while still providing a lot more cleaning than you're likely to get when you're just sucking at the fiber.
There is one major issue: the tank ends up holding less than a gallon of water. That's awesome for the weight, leading the whole thing to weigh less than fifteen pounds once it's filled… but it also means more frequent reloading if you're going to be working over a large area.
For the size and weight, however, you're not going to beat it. Throw in a great price and there's a lot to be recommended here.
Best Budget Carpet Cleaner for Pets
BISSELL Turboclean Powerbrush Pet Upright Carpet Cleaner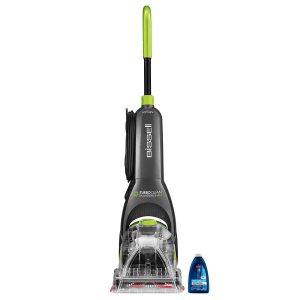 This was the cheapest on our list at the time of writing, although not by a whole lot. As an upright it's a great way to get things clean, it just lacks some of the power and durability which can be found in more expensive models of carpet cleaner.
One really nice thing: it has a split tank. That keeps the dirty water out of the clean stuff, allowing you to make sure that you've got everything handled easily. Just dump the dirty water and refill as you go, although it does make for a bit less run time than you'd expect from a tank this size.
It's a mini, however, so don't pick it up if you have an enormous home or you'll be refilling it more frequently than you'd care for in most cases. It's super lightweight and easily maneuverable, however, which makes it a stand out option at this price point.
Frankly, we were pretty impressed with the amount of power the machine put out. Most of the smaller options are relatively toothless when it comes to really getting out dug in stains and while it wasn't a "one-pass job" it didn't take too much to get out the old stuff with this one.
It's specifically designed with pets in mind, and frankly we think that's a good thing. You might occasionally spill some coffee or a glass of wine but for a lot of us the vast majority of our stains have a single, furry source.
Best Carpet Shampoos for Pets
Once you have your machine, you're still going to need to make sure that you have the right shampoo for your own use. Not all cleaning products are created equally, so make sure that you spend the time to figure out which is going to be the best way to move forward with cleaning your home.
Best Overall Pet Carpet Shampoo
BISSELL 2X Pet Stain & Odor Full Size Machine Formula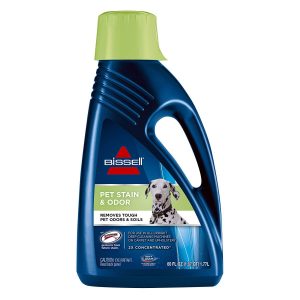 When it comes to busting through urine and handling the mud that our favorite furry friends keep running through the house this stuff is hard to beat. It's made for full-size Bissell machines but we've found it works great in most machines without any real issues.
It's pet safe, has a built-in stain guard, and you'll quickly find it to be among your favorite cleaning products.
Unfortunately, it lacks anti-microbial action. Just make sure you've readily handled the stains and you should be able to avoid any further issues. If you don't get everything then you may still have to deal with some of the odor causing bacteria.
Runner Up for Best Overall Pet Carpet Shampoo
Hoover PETPLUS Concentrated Formula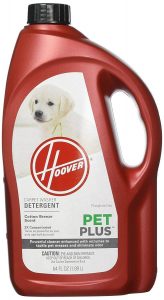 Hoover makes this fantastic carpet shampoo for handling pet stains which seems to eliminate odors even better than the competition. It's not quite as good at getting things clean as our favorite, however, but it may be the better option for carpets which smell "doggy" after an extended period.
It leaves behind a lingering, clean scent which most of our reviewers found to be quite pleasant and unlike many cleaning problems we heard no complaints about it.
Of course, like all of our recommended products it's also safe for pets. We'll get into why you should be using only specific pet cleaners in any home with dogs or cats in a bit, but it's something that's pretty much required.
Best Budget Pet Carpet Shampoo
Rug Doctor Oxy-Steam Carpet Cleaning Solution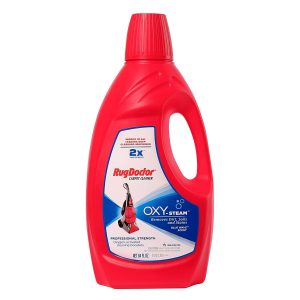 For those on a tight budget, Rug Doctor's Oxy-Steam Carpet Cleaning solution is an excellent choice. It does a fantastic job and we'd even recommend it as the first choice for big jobs with a lot of set-in stains.
The enzymatic solution does a great job of breaking down stains and odors, although it seemed to work a bit slower than our favorites. On the other hand, with the lower price and extremely concentrated form you'll find that it's a fantastic way to get things going.
The main issue is that it's not specifically set up to handle pet stains and odors, and it might work best for a first go followed by a more specialized product which you can use more sparingly.
Best Odor Eliminator
Rocco & Roxie Professional Strength Stain & Odor Eliminator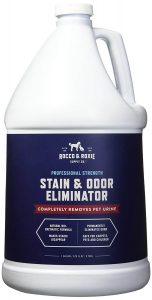 Alright, let's be honest here… we love this stuff. It's expensive, but there's nothing quite like it when it comes to handling pet stains and odors. So… we decided to give it a shot in a carpet cleaner to see what would happen.
It works great. The problem is that since it's not formulated for usage with carpet cleaners it also produces a ton of foam over the length of the floor where it's used.
That might be a minor problem for some people. It still works just as well as always, however, just be aware it's going to make a mess. If you're making the first pass at a really bad home then it's worth a shot but for weekly or daily use it's kind of a pain.
Stain Strategies
Once again we have to acknowledge that every home is different.
For built-in stains in smaller areas, for instance, you may find that the smaller machines lack the power to clean things up in the first place.
If you're in that scenario then you may want to pay to have things done professionally or rent a professional quality machine for a few hours before you pick up a more appropriate machine for your home.
The biggest thing, as always, is going to be staying on top of it. Once you have your carpet cleaned the first time you can go with a smaller, cheaper machine. If you have a large home, a ton of animals, and clean carpets you'll still want to break out the big guns however.
Before you decide on a final purchase, you're going to want to assess the condition your home is in as well as the size.
Pet Odors and Stains in the Carpet: the FAQ
Q: What's the best way to get pet urine out of carpet?
A: If you're able to get to it immediately you may not need a carpet cleaner unless there's been a serious issue. Simply treating the stain with the right cleaner may be enough. If it's been sitting for long enough to dry, however, then you're going to want to use a carpet cleaner to get the stain and odor completely out without spending a ton of time scrubbing with a rag.
Q: Can I use a homemade solution for my carpet cleaner?
A: Yes, but it's not going to be the best for pet stains and odors. For grease based stains you can use dish detergent and water in a 1:20 mixture, tannin based stains(think wine and coffee) are best treated with a 1:2 mixture of vinegar to water.
Q: Can I use vinegar in my carpet cleaner?
A: Follow our guidelines above for the best results. Be aware that vinegar is acidic, however, while most cleaning solutions are basic in nature. This can shorten the lifespan of your machine if you do it too frequently.
Q: Will a professional service be able to remove all odors and stains?
A: A professional service can be expensive… but they're going to be able to do the best job. Stain tackling can be surprisingly complex which means that you're going to need to get some experience before you're super proficient at it. If you're looking at a hoarder's home or something it may be best to just go with them.
Q: How can I tell if a carpet cleaner is pet safe?
A: For the most part, you're best off using formulations which are specifically made for pets. Enzymatic solutions are always going to be the safest, since there's less harsh chemicals in them and they work by a biological method. Carpet cleaners tend to be safer than most chemicals, but if in doubt then double check.
Q: What's the best carpet cleaner for pets?
A: Unfortunately, there's no simple answer for this question. It's always going to depend on your home and how many pets you have within it. As a general rule, most average sized homes with only two or three pets will be well served with the Hoover Power Scrub Deluxe Carpet Washer FH50150. If you have a ton of pets then go with a heavy-duty machine and if you have small living quarters then try a compact machine and just staying on top of things.
Q: What's the best carpet shampoo for my pets?
A: We recommend BISSELL 2X Pet Stain & Odor Full Size Machine Formula for regular usage. It's just the best all the way around. For a first pass in a really bad home, try some of the Rocco & Roxie Professional Strength Stain & Odor Eliminator and then follow up with the Bissell solution when you need to clean again.
Q: How often should I use my carpet cleaner?
A: There's no real guidelines here, except for one: the less time a stain is on your carpet, the more likely you'll be to be able to remove everything without any further issues. Unfortunately, really set-in stains can be quite hard to remove.
Q: Should I pre-treat urine stains?
A: Absolutely. Urine soaking into under flooring can cause serious issues, both with the integrity of the subfloor and with stubborn smells. If you catch your pet in the act then blot the stain as quickly as possible with a paper towel. Hopefully, you have some stain treatment around as well. If anything remains after application, hit it with the carpet cleaner to make sure it's all gone.
No More Stains, No More Odor
We found carpet cleaners to be useful enough we almost wish our pets had come with them in the first place.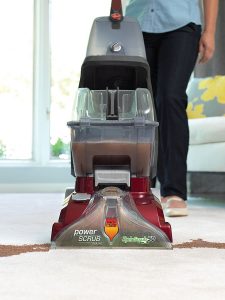 Whether you're cleaning your home for the first time or just want to make sure that you stay on top of the little accidents and mishaps which are inevitably going to happen when pets are involved maybe it's time to consider a carpet cleaner.
The sooner you get the best pet carpet cleaner for your own needs, the better off you'll be. So act fast, find the right one, and get it delivered.
Truthfully, these machines make all the difference when it comes to keeping your home from turning into a doggy mess.