The Best Large Dog Beds in 2019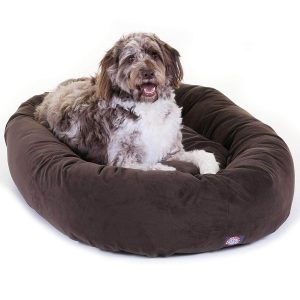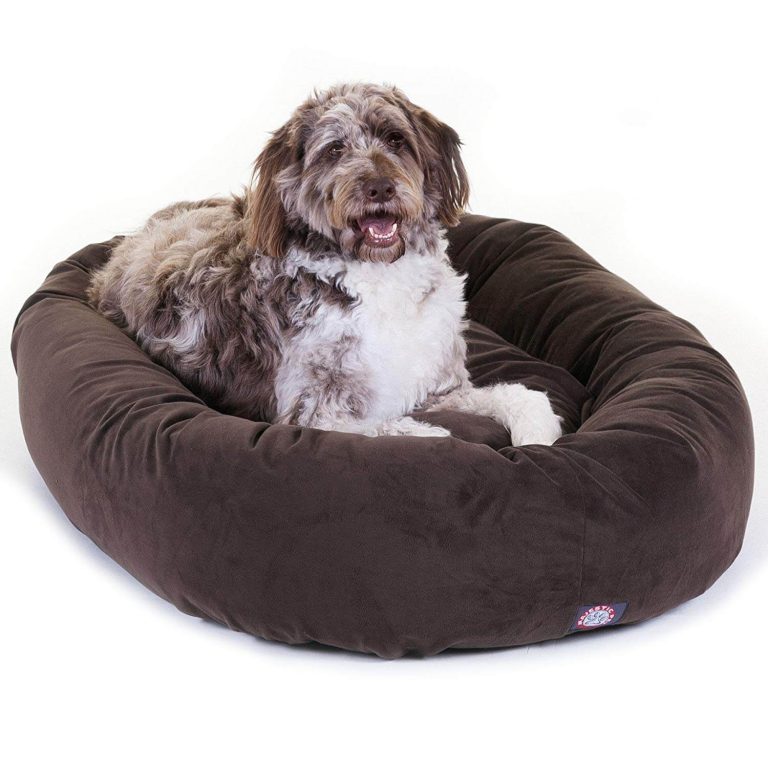 When you've got a mammoth mastiff or a large Labrador sharing your home you're going to need a bed to fit.
Thanks to their superior size and weight, however, those large dogs which have snuggled their way into our hearts have some special needs in addition to the size of the bed.
If you're looking to get a great bed for your large dog then you're in the right place. Our roundup contains all of the best large dog beds that this year has to offer.
Read on and we'll show you how to pick the right bed for your dog. Remember, it's not just about size, if you're doing your best for your dog then you're going to need to dig a little bit deeper than that.
What Makes a Large Dog Bed Special?
It fits a large dog.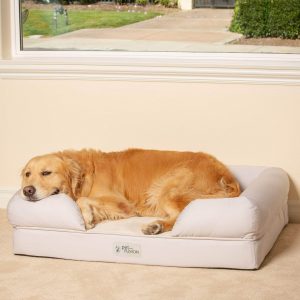 Okay, no, it's a little bit more complicated than that.
If you're not already aware: quite often large breeds of dog have a ton of issues which don't show up quite as frequently in smaller dogs. So, in addition to the sizing and your dog's style of sleeping, you'll also need to make sure that the material is right.
For most large dogs orthopedic memory foam is the best way to keep their joints healthy. As a general rule, the thicker the better.
It's not a requirement but if you start using one early in your dog's life then you can lessen their chances of developing issues like hip dysplasia.
Polyfill is also a suitable alternative provided that it's of high quality. A lot of polyfill is rather cheap and deforms easily so it's not as durable either. As a general rule it'll be a bit easier on your wallet however.
Stitching Matters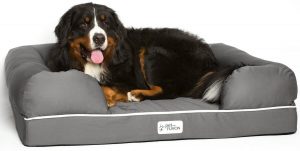 Dog beds, in general, are usually made with materials that are at least decent.
Where the biggest problem comes in for the average priced bed is in the stitching. We all know that our dogs have a tendency to roll around, dance, and generally put a lot more force on their beds than we'd suspect at first glance.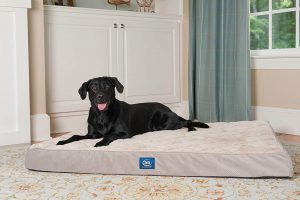 A 10 lb Chihuahua may not be breaking down a bed anytime soon but a 100 lb German Shepherd? They're going to do some damage just by moving around on the bed in an energetic manner, and the problem only gets bigger as the dogs breeds get bigger.
Keep an eye on the overall construction of the bed.
Dog beds are pretty simple, but they still have to be stitched or zipped together in order to hold the padding. The biggest failure point, at least early in a dog bed's lifespan, is in the stitching. Zippers are a close second.
Sleeping Style and Chewers
Your pet will almost always have a favored position for sleeping.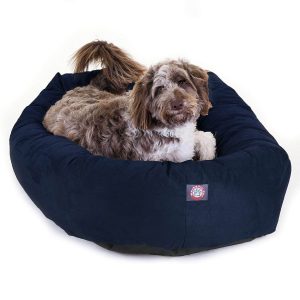 Sprawlers prefer pads. If your dog lays out during their nap then you want to find something which is squared off and a pad. A thick pad can be a bit of a problem at times, so if the pad is over three inches tall then try to find one which is actually bigger than your dog.
Dogs which snuggle into things while sleeping do well with bolsters. Bolsters are basically couch arms for dog beds, a round pad which goes around either three quarters or the entire perimeter.
When it comes to large dogs, few are burrowers. However, if you do have a large dog which burrows the best solution is a bolster bed with a blanket thrown over it as we couldn't find any cave-style beds which were suitable for truly large dogs.
Most dogs will be okay with most beds, but suiting their sleeping preference as much as possible is the way to go if you've got a "picky sleeper" on your hands. It happens, so check the return policy on the bed before you buy it in case the worst happens.
The Cleaning Question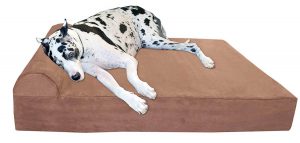 When you're cleaning dog beds you want it to be a quick and easy process.
Let's face it, if there's one thing bigger than our large dogs it's their smell. Some of the largest breeds also release enough drool to drown a lesser dog.
That means… mess. On the bed as well as around the house.
Being able to easily clean your large dog's bed will make your life a lot easier. This can be done in a few different manners:
Microfiber outer covers are often stain and odor resistant
Being able to easily zip and unzip your dog bed's cover can allow you to throw it in the washing machine
Some can be thrown in the washing machine in one piece, although this isn't the preferable way to do things when you've got a large dog

In any case, just make sure that the bed you're looking for is easy to clean and you'll be good to go.
You'll also want to make sure that you're able to match off with the chewing potential of your canine. Those mutts who practice extensive mastication of the expensive things you buy for them are probably best suited for tougher beds than normal.
Go for a metal framed, cot-style bed if your dog is prone to destruction. You'll end up saving a lot of money in the long run.
Top Large Dog Beds in 2019
We've compiled a list of our favorite large dog beds of the year. As usual, some brands are a standout while we've got a couple of dark horses in the running. Take a look and see which you think is the best fit for your pet's needs.
Best Overall Large Dog Bed
Big Barker 7″ Pillow Top Orthopedic Dog Bed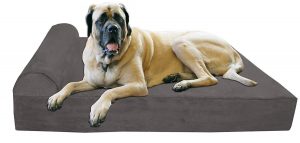 If you're looking for a superior bed that comes in a few different sizes then take a good look at the Big Barker. Not only is it made in sizes from big to absolutely enormous, it's constructed of 7" of memory foam.
This model is available as both a standard pad and with a pillow. This makes them quite suitable for a wide range of pets and you'll be able to make sure that you have the best bed possible.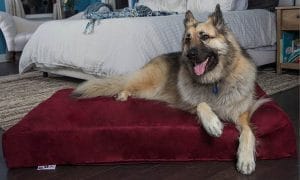 The fiber is made of stain-resistant microfiber and you can remove it the cover for easier cleaning. The convenience is pretty astounding.
The comfort for your dog is the most impressive part, however. The bed has been specifically designed to be used with zero pressure points, allowing you to make sure that your dog's joints stay healthy for a long time. It's also more than suitable for dogs who are already feeling the pangs of old age.
All of this comes with a price, however. Literally, the price for this bed is up there but with a ten-year warranty on the foam, it'll probably be the last dog bed that you have to buy.
Best Bolster Bed for Large Dogs
PetFusion Ultimate Pet Bed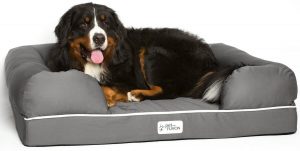 Some dogs need the extra comfort provided by bolsters in order to sleep soundly, and if that's the case for your canine then you should take a good look at this one. It's the best of the bolster beds that we found by a good margin.
It has 6" of memory foam, a moisture resistant cover, and it's super easy to clean. The important stuff is covered with this bed and it's also available in a wide variety of different sizes so you can find the one which suits your dog the best.
Like the Big Barker it's going to make a dent in your budget, but if your dog doesn't eat it then it'll probably be the last bed you'll have to buy for the duration of their lifespan.
Best Large Dog Bed for Burrowers
Best Friends by Sheri Luxury Shag Fuax Fur Donut Cuddler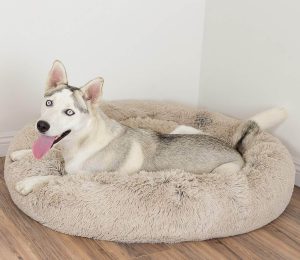 If your large dog likes to burrow deep into the covers, then this one makes a good option. The shaggy, faux fur can be combined with a blanket in order to make a great mimicry of the excellent cave beds which are available.
It's warm, comfortable, and provides your pet with the security they need. It's not quite as big as our other favorites, however, so make sure that it's appropriate. The largest option only forms a 45" inch donut.
Our favorite part? This one was the easiest to clean of our favorites by a long shot. The pads remove easily and can then be reinserted without any difficulty. The fur is machine washable as well, allowing you to get things done at your convenience.
All of this comes with a decent price tag as well, at least compared to our favorite beds. The only caveat is we don't recommend it for dogs with existing joint issues, the padding is just too thin and there are going to be some pressure points.
Best Budget Large Dog Bed
Suede Dog Bed By Majestic Pet Products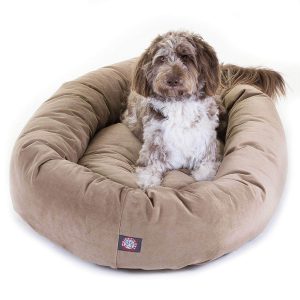 Is it our favorite? Definitely not, but for the price you're simply not going to be able to beat this dog bed. It's also made of a faux-suede material which is water resistant and also provides a great feel for your dog.
The largest model is 52" across, making it one of the biggest beds on our list. The only real problem is that it comes with poly-fill instead of memory foam which means that it simply doesn't provide the same amount of support as most of the high-end beds that we took a look at.
On the other hand it's a fraction of the price of the competition. It's a good buy no matter how you look at it, but we'd recommend springing for something with memory foam if your dog has issues.
Best Large Dog Bed for Sprawlers
Serta Ortho Quilted Pillowtop Pet Bed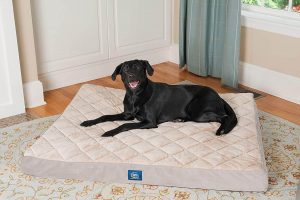 It's a big memory foam pad with a quilted top. Follow us on this one, however: some dogs like to sprawl out pretty far when they're sleeping and for them a super thick pad isn't going to cut it.
Instead, something with a bit less thickness like this is ideal. The memory foam is of the utmost quality, the cover has a great non-skid bottom, and it's easy to clean.
It's not going to win any points for innovation but you'll quickly find out that dogs absolutely love it. It's high-quality, durable, and comes in at a great price to allow you to make sure that you get the most out of it.
Snag it now if your dog likes to lay all over the place.
Best Large Dog Bed for Chewers
K&H Pet Products Original Pet Cot Elevated Pet Bed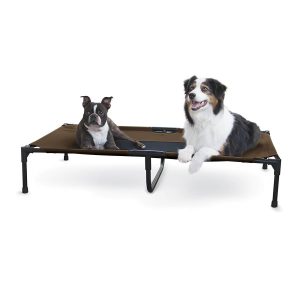 At last, we've found a bed suitable for large dogs who like to bite their beds. This cot-style bed is nearly invincible to dogs that like to chew and it's also a great outdoor option for those in warm climates.
The metal frame lifts the comfortable mesh fabric off the ground, allowing air to flow smoothly under it. The fabric is also tough enough to withstand all but the most determined digging and scratching and the way it's stretched means only the most crazed canine is going to be able to get their mouth onto it for a bite.
The design is actually surprisingly supportive, with few pressure points. That means it's suitable for those dogs who are suffering from joint problems as well.
It's the easiest to clean on our list. Grab the hose and spray it down. That's really it thanks to the materials it's constructed from.
On the other hand, you're not going to want to use it if you're already in a cold climate and it's not quite big enough for the truly epic breeds like Great Danes.
Why Invest in a High-End Dog Bed?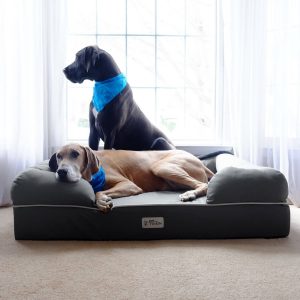 Let's face it, at the end of the day it's often easier to just throw down a couple of blankets in the corner than it is to spend the money on a high-end dog bed and then wait for it to come in.
The thing is, especially for large dog breeds, a good bed can greatly extend their active years. Support during sleeping has been found to help humans, and it's just as good for your dog.
While the high costs can sometimes seem like a bit much, you've got two big things going for you when you decide to buy a high-end dog bed:
They'll last for all or most of your dog's lifespan
You're investing in their health
It's best to get them on one of these beds as soon as you can get one. Memory foam and other high-quality materials can really help a dog stay spry into their old age.
Doing some rough math, you can expect a dog bed which costs a fraction of what our favorites do to last for two years at the most. You're going to end up spending less over the course of your dog's lifespan if you go down that route.
The Large Dog Bed FAQ
Q: Can I get a larger bed for multiple small dogs?
A: If your dogs are comfortable sleeping together, then it's actually a good idea. Just make sure they'll all have room. There are some exceptions to this: really thick beds like the Big Barker we reviewed above may not be able to support dogs under 45 lb or so since the foam layers are designed for heavier dogs.
Q: How do I know how big of a dog bed my pet needs?
A: We found the best way to make sure the bed is the right size and make sure that you don't have to go through the sometimes painful return process is to use masking tape on the floor in the size of the bed you're looking at. Then get your pet to lie down and see how they fit.
Q: Which measurement is the most important?
A: Width. Your dog needs to be able to lay on their side comfortably. If you can only match off one measurement make sure that the width is correct, while the length is also important most dogs will be able to get around it. If the bed is over 3" thick then you should make sure your whole dog fits.
Q: Is memory foam just a novelty?
A: No. There's a serious reason that we recommend memory foam for larger dogs: it works. It can help those dogs which are already elderly with arthritis or dysplasia as well as helping younger dogs remain spry well into their old age. There's a reason that people will pay thousands of dollars for a good memory foam mattress for themselves and your dog will enjoy the same benefits.
Q: Should I purchase a bed with a warranty?
A: Yes. Warranties are important for ensuring that your investment in your dog's health is protected. It also shows good faith on the part of the manufacturer, which is equally important.
Make Sure Your Large Dog Gets Big Sleep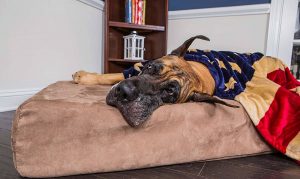 That should about cover it for most people. There are a ton of different beds out there but we feel like we've brought you the best currently on the market.
Regardless of your circumstances and pet's size, there's definitely a great bed out there just waiting for you to find it. Picking the right one doesn't have to be a serious chore, just be aware of how your dog sleeps and whether they need extra support.
What are you waiting for? The sooner you pick up the best large dog bed for your home, the sooner your dog will be able to get the sleep which they deserve. Our pets bring a lot of love into our eyes, so we feel like they really only deserve the best.