The Best Food and Supplements for Labs in 2018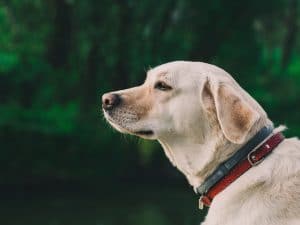 Labrador retrievers are one of the world's most renowned breeds. These energetic dogs were used in the past for hunting, but these days most of them end up as lovable family companions. They're renowned for their even-temper, intelligence, and trainability.
Of course, these large dogs actually require a bit of extra effort. They're not at the hard-to-take-care-of end of the scale, but with some forethought, you can help make sure that your labrador grows up into a well-muscled dog with a beautiful coat.
Special Considerations When Feeding Labrador Retrievers
There are a number of special considerations to take into account when you're feeding your lab. Unlike bully dogs, they don't quite have the same voracious "never gonna chew" appetite, but you'll still want to keep an eye on the frequency and amount you feed your lab.
As a puppy, they should be fed four times per day, as one or two large feedings can cause the runs and no one wants to deal with that.
Caloric Intake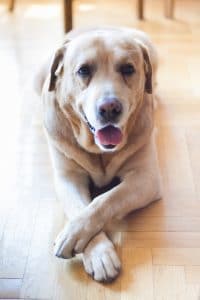 As a general rule, an active labrador will do well with roughly 40 calories per kilogram of body weight.
For those dogs which spend most of their day in the home, however, it's best to calculate the resting energy requirements, or RER, for your dog.
The equation for RER is relatively simple:
Weight in Kg * 30 + 70 = RER in Calories
Each dog's metabolism will vary a bit, the most important thing is to make sure that your dog doesn't put on too much body fat to avoid making any future problems worse.
Puppies will require roughly four times their RER in order to ensure adequate growth. This is also true of working dogs, while a moderately active lab will require around twice their RER.
Do Labrador Retriever Have Special Nutritional Requirements?
Labradors have the distinction of being one of the most common breeds around, so there are actually a large number of foods made specifically for the breed.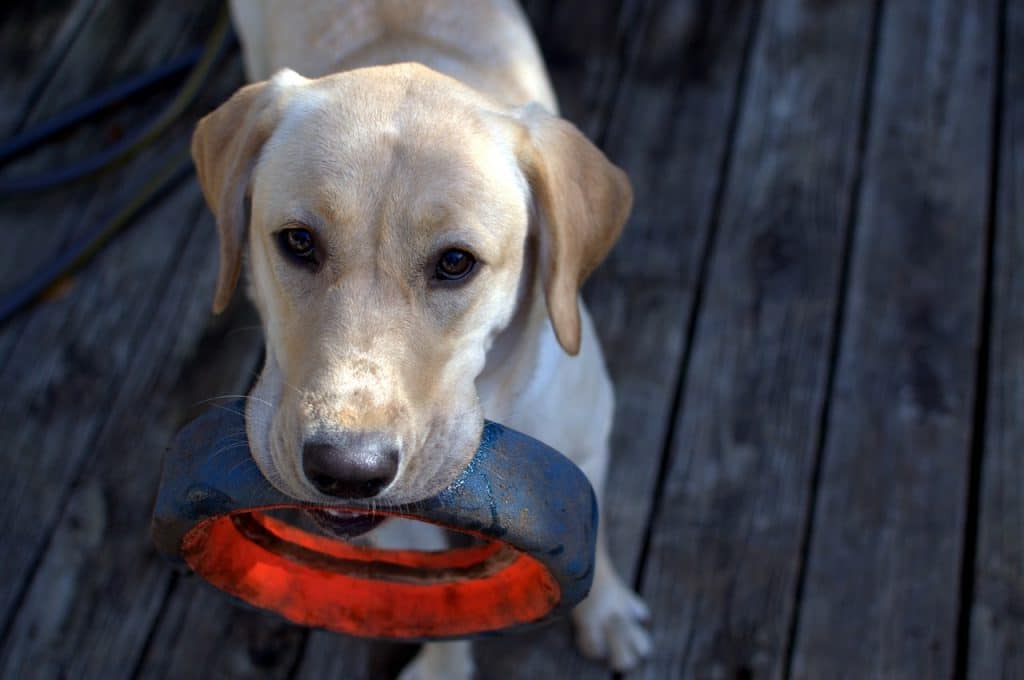 In general, as high-energy dogs a diet high in proteins and fats is desirable. Those dogs who are actually being put to work will need to have a special emphasis on this.
In addition, due to a fairly large number of health problems which labrador retrievers often suffer from, the addition of certain supplements is common in food targeted towards them.
Top Dog Foods for Labrador Retrievers
We're pleased to announce that we did the footwork for you, and we've found appropriate foods for labrador retrievers of any age and size. Whether you've got a new puppy in the home or an ailing, elderly lab, one of the foods we've found will have you covered.
Best Overall Labrador Food
EUKANUBA Breed Specific Adult Dry Dog Food
EUKANUBA is famous for their breed specific food recipes, and when it comes to labs they've definitely got it down. It's not particularly calorie dense, and it's a bit light in protein for younger dogs, but for adults and even seniors it has a perfect nutrient distribution.
The 23% protein might seem a little bit low, but it helps to keep the obesity off your dog as they age. It comes in at a relatively low 302 calories per cup of food, so you won't have to worry about your dog getting overweight. It also has 5% fiber, which is just a bit above the recommended minimum.
The big factors here though are the additives: Omega-3 and Omega-6 fatty acids are great for joint health, and the food also has added glucosamine and chondroitin which can help reduce the need to supplement as time goes on.
It's a bit expensive, and the calcium is under the recommended amount for an adult dog, but with a proper dog multivitamin you may be able to forgo other supplements.
Our opinion: This was our favorite choice for adult labrador retrievers. The low calories and good profile are awesome, but the big draw is the addition of joint-protecting nutrients which can help to keep your dog healthy well into old age.
Great nutrient profile for dogs who are mainly pets
Low calorie to fight obesity
Contains supplements for joint health
Specially formulated for labradors
Rather Expensive
Low in calcium
Best Food for Labrador Retriever Puppies
Royal Canin Breed Health Nutrition Labrador Retriever Puppy Dry Dog Food
When it comes to puppies, there are some specific requirements which must be met in order to be a worthy food for these growing members of our families. It comes in at 21% protein and .85% calcium which is great for growing pups.
It's not particularly nutrient dense, coming in at 293 calories per cup. The unique, donut-shaped kibble helps to keep your dog from gorging themselves as well, which is an extra layer of thought which few manufacturers seem to think of.
All of the nutritional content is aimed towards keeping your dog healthy and happy, allowing them to grow up with strong eyes, a nice coat, and well muscled.
As far as puppy chows go, it's hard to beat something which is made specifically for the breed. Royal Canin delivers with this puppy food.
Our opinion: If you're looking for a great puppy food, then you'll be pleased with Royal Canin's offering. It's nutritionally balanced and the extra bits of thought put into it can make all the difference in the end.
Great nutrient profile
Lowered calcium for puppies
Unique shape keeps dogs from gorging
Supports growth and health
Fairly Expensive
Could be higher in protein
Best Dog Food for Senior Labradors
Blue Buffalo Blue Life Protection Formula Large Breed Senior
Blue Buffalo is one of the most recommended pet food brands by vets. It has a reputation, deservedly, for being expensive, but this chicken and rice-based senior dog chow is excellent for those labs that are getting up there in years.
Coming in at 22% protein and 10% fat, it's a good idea for those older dogs whose metabolisms are starting to slow down. It also contains additional glucosamine and chondroitin for joint protection, which is even more essential for senior labs than their younger counterparts.
The fiber content sits at 7%, which adds even more for older dogs who may be having trouble with their aging bowels.
The only real issue is that it does contain rice. Some dogs can't handle any sorts of grains at all, but rice is probably the best of the lot for those who are forced to utilize grains. It's not a big knockdown of a disadvantage either since labs seem to only rarely suffer from food allergies.
Our opinion: If you can get your head around the rice and the high price, then you'll be doggone pleased with Blue Buffalo's large breed option for senior dogs. Pick it up for your dog, and watch your older dog thrive once more.
Great nutrient profile for senior dogs
Included joint health supplements
Made with chicken with no byproducts
Formulated specifically with older, large dogs in mind
Contains rice, which is a problem for allergic dogs
Fairly expensive
Best Food for Working Labradors
BLUE Wilderness High Protein Grain Free Adult Dry Dog Food
When it comes to working dogs, you need a food like this one in order to ensure that your dog's energy needs are met through their career. Working dogs need a lot of protein and a working labrador can take up to four times the calories of one which is mainly a house pet.
That's where the 32% protein, grain-free formula of Blue Wilderness comes in handy. In addition to that, it contains additional taurine and EPA to help ensure eye health and joint protecting substances like glucosamine to help your active dog's joints.
It's too dense for resting dogs, coming in at 420 calories per cup, but if you're taking your lab in the field or training them for dog athletics then this is exactly what you need.
It's also grain-free, making it a standout option among the many options out there. It's simply the best for not just labs but pretty much any large working dog.
Our opinion: If your labrador is more than a pet, but instead a hunting companion or an athlete in their own right then this is a great investment. It's rather expensive and too calorie dense for your average lab, but it shines for those dogs who need it.
Great profile for working dogs
High calorie per cup
Grain-free
Extra supplemental nutrients
Very expensive
Not good for house pets
Best Budget Food for Labrador Retrievers
Purina Beneful Originals Adult Dry Dog Food
Let's face it, high-quality dog food has some high costs associated with it and not all of us can afford to pay for it. Thankfully, there are a couple of foods out there that are still great for your dog but won't break the bank.
Our personal favorite for labs was this option from Purina. Coming in at 23% protein and 13% fat it's not quite as ideal as many of the others we looked at, but it's definitely enough to keep your dog healthy once they're an adult.
It also has 4% fiber, which is pretty much the way to go until your dog gets into their senior years. It does lack some of the glucosamine and other nutrients which make keep dogs healthy into their later years.
All of this comes in at a cost about half that of our other favorites.
Our opinion: If you're on a tight budget but still want to feed your lab a quality food, this one from Purina is the way to get.
Great nutrient profile
Good cost
Optimal fiber content
Two flavors available
No glucosamine or chondroitin
No taurine or EPA
Your Labrador Retriever's Diet and Health Issues
Supplements for Labrador Retrievers
When it comes to labs, a few supplements can help to keep their joint and eye ailments away. Admittedly, not much can be done if your dog suffers from one of the rarer ailments, but if you start them on vitamins and supplements as puppies they're much more likely to be able to avoid these issues.
Supplement for Your Lab's Joints
Maximum Strength Hip & Joint Support For Dogs
Hip and joint supplements are a must for labrador retrievers. This maximum strength formula provides pretty much everything needed in order to keep their cartilage healthy over time and can help to prevent hip dysplasia and knee problems which are quite common in larger dogs.
The MSM contained within also acts as an anti-inflammatory, which helps to relieve any pain which is already occurring.
Add in a delicious bacon flavor that dogs are sure to love and the antioxidants vitamin C and E and you have a complete approach to joint health for your lab.
Our opinion: Joint supplements are pretty much a must for labradors, and this high-strength formula is perfect and contains extra additives to help maintain health and kill pain even if your dog is already ailing.
Supplement for Your Lab's Eyes
Namron Scientific Dog Vision Supplement
Perhaps the most unfortunate, and common, ailment which afflicts labrador retrievers is cataracts and other serious eye problems that can cause blindness as your dog ages. Fortunately, there are supplements which can help to prevent these from forming although you'll want to start your dog early.
Namron has released this multivitamin which contains the essential nutrients required for your dog's health, with a special emphasis on their eyes. Even foods formulated for labs often don't contain the right ingredients to ensure eye health, and those that do often don't have them in the right amounts.
Fortunately, this supplement contains 25 balanced nutrients specifically designed to keep your dog's eyes healthy and also contains many of the nutrients which aren't present in appreciable quantities in dog foods or even other multivitamins.
Our opinion: If you're worried about your dog's eyes as they age, this is a fantastic supplement to pick up. Get it now and start adding it to your dog's diet for the best effects.
Best Multivitamin for Your Lab
Healthy Breeds Multi-Tabs Advanced Formula Vitamin & Mineral Daily Dietary Supplement
Multivitamins are a great way to ensure that your pet stays healthy.  Healthy Breeds goes out of their way to ensure that your pet's specific breed is covered when you buy their vitamins, which puts them ahead of the competition.
This is a once a day chew and you can buy a whole years supply for a minimal cost. Most dogs readily accept the liver flavored, chewable vitamins and they supply all of the vital nutrients that your food might be missing.
Snap these up and supply them to your dog and you'll be amazed with the results. Multivitamins are pretty much essential for skin and coat health, and this one really does cover most of the basics although you may still want to add other supplements.
Our opinion: For overall health, these multivitamins are a great way to ensure that you're able to cover all of the bases which your food might be missing.
Which Dogs Are Considered Labrador Retrievers?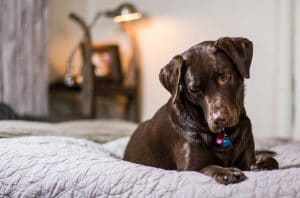 There are a few different breeds of dog which are considered to fall under the "lab" category.
The biggest differentiation is between English and American labradors. While quite similar physically, they tend to be a bit different when it comes to their behavior.
As a general rule, English labs tend to be quite a bit calmer and more easily trained. The main physical difference is that they tend to have shorter legs and a blockier head than their American counterparts.
American labradors, on the other hand, tend to be much more energetic and were primarily bred for field trials. They can be a bit more difficult, but their high energy levels and lean build lends them well to canine athletics and hunting with an experienced handler behind them.
Today the breed is separated into the original black color, the yellow variety, and the chocolate brown variety.
From the Field to the Home and Beyond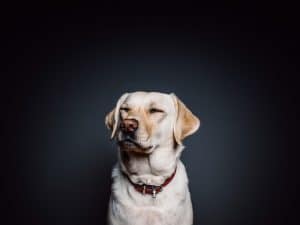 The common ancestral breed of labrador retrievers was known as the St. John's Water Dog. These dogs came from relatively humble beginnings, being a breed which was bred entirely for one purpose: fowling.
They were renowned for this purpose. Due to their ability to tolerate even the coldest waters, they are remarkable hunting dogs when used to retrieve waterfowl such as duck during the colder seasons, and they are intelligent enough to also be used for purposes of pointing and flushing birds.
This incredible versatility has long made them a favored working dog among hunters, although most labradors these days are house pets.
The intelligence and work ethic the breed is known for is used for far more than hunting, however. They are one of the most commonly used guide dogs in the world and are frequently used as assistance dogs for those with disabilities.
Truly it's not hard to see why they're one of the most commonly kept breeds around. Their intelligence and loyalty truly makes them a breed apart.
Conclusion
Labrador retrievers have some of their own special issues when it comes to diet and health, but with the right food and supplements, you can ensure your lab stays healthy for a long time to come. You can help avoid many of the problems which come with them, including obesity, eye problems, and joint problems.
No need to hesitate, no matter the age of your lab or their current health conditions, the right food and supplements can greatly improve their quality of life and keep your friend healthy for years to come.
[yasr_visitor_votes size="medium"]